I found
this pin for mozzarella sticks
and I knew I needed to try this out. I love simple recipes that I can remember on the fly without looking up the recipe...
Just 2 ingredients, yes, i think even I can remember that!
String Cheese wrapped in
Won ton wrappers.
Easy peasy!
I cut my string cheese sticks in half and wrapped them up. Then I put them in a pan with a little bit of hot canola oil and cooked about 10-20 seconds per side rotating until all sides were golden brown.
Tada!!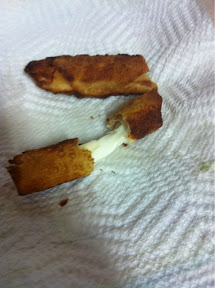 So good. So easy. You should try it!
- Posted using BlogPress from my iPhone